As apartment demand suffered a precipitous fall in the back half of 2022 from the heady heights of the previous eighteen or so months, it became clear as the calendar turned to 2023 that the first real opportunity for a turnaround would depend on seasonal trends. The multifamily industry is a highly seasonal industry, with most annual net absorption usually coming in the middle quarters sandwiched between the quieter first and fourth quarters.
That seasonal flow was disrupted in 2020 and had been missing in action ever since. After an unusually poor third quarter in 2022, and a disastrous fourth quarter in which about 43,000 net leased units were lost nationally, a turnaround was sorely needed. The real period of interest begins with April, so it is early days yet, but so far, the monthly data is shaping up as would be expected in a typical year from a seasonal perspective.
All numbers will refer to conventional properties of at least fifty units.
First Quarter Net Absorption
As already mentioned, the early indicator months for apartment demand tend to be April and May – though, March sometimes gets the strong season started. This year, the background coming into the first quarter was that every month in the fourth quarter had suffered negative net absorption. January followed suit, but by the slimmest of margins as national absorption totaled a net loss of just thirty units.  Then, February experienced a regression to the tune of a net loss of around 2,000 leased units.
Finally, after seven consecutive months in negative territory, March saw a net gain of just more than 13,000 leased units across the US. Encouragingly, while the workforce housing price tiers had been especially hard hit in 2022, Class C net absorption in March was back in positive territory. Even Class D, still slightly negative in March, at least managed to pare the loss in half compared to February.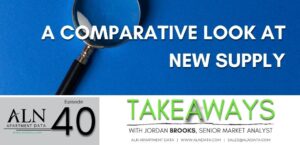 In our series Takeaways, ALN Apartment Data Senior Market Analyst, Jordan Brooks, shares more insight into the final thoughts on the November 2023 newsletter article,…
Read More
arrow_forward
April Net Absorption
In April apartment demand improved a little more. Still only one month removed from a lengthy streak of negative monthly absorption, the April total came in at around 19,000 net leased units gained nationally. Given how dramatic the drop off was in the last six months of last year, it was very positive to see March get back above zero and now to see April build on that. A couple of data points to not make a trend, but so far, the improvement beginning in this portion of the calendar bodes well for the spring and summer period.
As with the March data, April provided some encouragement at the price class level. The top two price tiers remained squarely positive, and the Class C segment built on its momentum from March by adding approximately 8,200 net leased units. This level of demand represented a 56% improvement from March. Similarly, the Class D subset managed to claw back out of monthly net losses with net absorption of nearly 1,400 units. Not a gargantuan total to be sure, but improvement, nonetheless.
Takeaways
The year is still young, and headwinds remain for multifamily demand. The rent growth of 2021 and 2022 combined with persistent inflation in other areas of the economy have exacerbated preexisting affordability issues. Though much-needed in the long term, the quantity of new supply expected to enter the market this year is all but certain to pressure occupancies in the near-term and make further rent growth more difficult. Additionally, a further rate hike from the Fed is anticipated in the coming months, and the layoffs that began in the tech sector now seem to have spread to the finance sector and even some of the large retailers like Walmart.
However, it appears reasonable to expect that seasonality may be more of an aid than was the case last year. Net absorption through the first four months of the year was lower than in any recent year, but after isolating just March and April this year compares favorably to both 2020 and 2022. While net absorption is likely to remain lower than normal this year, the spring and summer months may at least provide the relative boost the industry has been accustomed to.
Learn more about ALN's reports, methodology, and platforms today!
Disclaimer: All content and information within this article is for informational purposes only. ALN Apartment Data makes no representation as to the accuracy or completeness of any information in this or any other article posted on this site or found by following any link on this site. The owner will not be held liable for any losses, injuries, or damages from the display or use of this information. All content and information in this article may be shared provided a link to the article or website is included in the shared content.