As discussed on a recent blog post, the historic rent growth seen in 2021 finally began to slow as summer turned to fall, but monthly gains continue to be well above that of a typical year. The same can be said for apartment demand. Monthly net absorption numbers remain well above anything seen in recent years, but relative to the gaudy numbers of the spring and fall, demand has cooled some in recent months.
As always, all numbers will refer to conventional units of at least 50 units.
National View
More than 590,000 net units were absorbed through October of 2021 nationally. This is not only more than double the roughly 246,000 net units from COVID-affected 2020, but also nearly double the approximately 300,000 net units from 2019. Just in the month of October, about 53,000 previously unoccupied units were leased. Despite being comfortably above any single month in 2019, this actually marked the lowest level of demand since March of 2021 and made October the fifth consecutive monthly decline from a peak of just over 94,000 net absorbed units in May.
Price Class View
From the perspective of price class, the raw number of units absorbed tells one story, and demand on a percent change basis tells another. Despite accounting for fewer total units than the bottom two price classes, the top two tiers comfortably led the way in net absorbed units.  Nearly 185,000 previously vacant units were leased in the Class A space, with Class B not far behind with more than 170,000 net units newly leased. Class C properties also topped 100,000 net absorbed units at almost 130,000 and Class D closed October at around 47,000 net units absorbed so far this year. Each segment outperformed not only 2020, but 2019 as well, and by a wide margin.
It is this percent change metric that elucidates another picture. The Class A subset was the only group of the four to fall short of a 100% increase in net absorbed units compared to pre-COVID 2019 results. The roughly 185,000 net change in leased units through October of this year represented a 69% increase from 2019, certainly nothing to sneeze at. For Class B properties, 2021 demand has ben 103% higher than in 2019.
The Class C and Class D segments have managed an even greater increase. Class C net absorption has been 140% higher than in 2019 and Class D has experienced a 177% increase. In terms of net absorbed units, Class A has been the top price class and absorption has declined through the tiers. In terms of percent change in demand from 2019, the inverse has been true.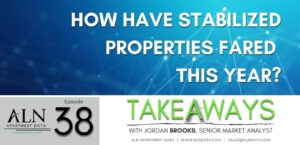 In our series Takeaways, ALN Apartment Data Senior Market Analyst, Jordan Brooks, shares more insight into the final thoughts on the September 2023 newsletter article,…
Read More
arrow_forward
Market View
Some specific markets stood out in the data for apartment demand through October, and again, two different metrics are worth highlighting. First, the markets with the largest gains in net rented units. The usual suspects populate the top ten, with Dallas – Fort Worth, Houston, and New York rounding out the top three – led by around 46,000 net absorbed units in DFW.
One market of note is Chicago. After especially struggling in 2020, the area ranked seventh in the nation through October with just over 19,000 net units absorbed. Other markets like Los Angeles – Orange County, Washington DC, Atlanta, and Austin cracked the top ten with Orlando bringing up the rear thanks to just over 14,000 net newly leased units.
Another metric that is useful when measuring apartment demand is units absorbed as a percent of vacant units. In some areas, strong demand may be masked by high average occupancy that limits how many units can be newly leased in a period. As a result, this measurement typically highlights some smaller areas with less recent new supply.
Concord, NH ended October atop this metric with less than 200 net absorbed units because these units represented 75% of vacant units for the market. State College – Altoona, PA was right behind with net absorption equaling 74% of available units in the period. Rounding out the top five were Fort Myers – Naples, FL at 72%, Palm Beach, FL at 65%, and Anchorage, AK at 63%. The highest percentage for a market with at least 500 conventional multifamily properties was Miami at 61%.
Takeaways
Like rent growth, monthly apartment demand has continued a downward trajectory since peaking earlier in the year. This has not been unexpected given the seasonality of our industry, and given the eye-popping numbers already achieved this year. Even though net absorption has declined in recent months, the monthly totals continue to be well above anything seen in recent years.
While not adding as many net rented units as the top two price classes, the Class C and Class D space have performed very well compared to recent history. The Class D segment's 177% increase from 2019 absorbed units through October has been the strongest overperformance by a large margin.
The usual market sit atop the market rankings of absorbed units for the year, but areas like Chicago and San – Francisco – Oakland that especially struggled in 2020 have also managed to fall within the top ten this year. Many smaller markets have also displayed strong demand with net absorption in those areas totaling more than 60% of available units.
Want to Receive Our Free Monthly Newsletter?
If you don't already receive the ALN Apartment Data monthly newsletter, click the button and tell us how to send it to you.
Subscribe
Disclaimer: All content and information within this article is for informational purposes only. ALN Apartment Data makes no representation as to the accuracy or completeness of any information in this or any other article posted on this site or found by following any link on this site. The owner will not be held liable for any losses, injuries, or damages from the display or use of this information. All content and information in this article may be shared provided a link to the article or website is included in the shared content.