Through October, national average effective rent has increased this year by 13% to close the month with the average unit leasing for $1,534 per month. During the same period, the availability of lease concessions has decreased by more than 50% – with only 9% of conventional properties offering a new lease discount to close the month.
October did mark the second consecutive month in which rent growth decelerated, and the third straight month to see a smaller decrease in discount availability.
Average Effective Rent
Average effective rent rose by 1.2% in the month of October, following gains of 1.6% and 1.9% in the previous two months. Despite establishing a downward trend in growth, something not unexpected given the seasonality of the industry and the incredible run-up in rents already this year, October added to the ongoing streak of monthly gains in excess of 1%. That streak now stands at seven consecutive months. For context, in 2019 prior to the COVID-19 pandemic, only one month met that threshold.
As has been the case for much of the year, robust growth was experienced across the price classes and across markets of varying sizes. All but the Class D subset of properties added at least 1% to average effective rent in October, led by the 1.5% gain in the Class A space. Similarly, of the four ALN market tiers, all but the smallest markets realized monthly appreciation above 1%. Tier One markets, the 33 largest by multifamily stock, and Tier Three markets gained 1.2%. Tier Two markets saw the largest increase during the month at 1.5%. The tertiary markets fell just short of 1% with a 0.9% increase.
Although the US average was a 1.2% gain, five markets added 3% or more to average effective rent in October. Fort Wayne, Indiana topped the list after a 3.7% gain. Charleston, West Virginia was third after a 3.2% jump. The remaining markets in the top five were the Florida markets of Melbourne, Palm Beach, and Fort Lauderdale. Florida was well-represented at the top of the list, accounting for five of the top 10 markets for rent growth in October.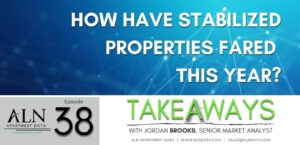 In our series Takeaways, ALN Apartment Data Senior Market Analyst, Jordan Brooks, shares more insight into the final thoughts on the September 2023 newsletter article,…
Read More
arrow_forward
Lease Concessions
A 5% decrease in discount availability brought the percent of conventional properties offering a new lease discount to just under 9% to close the month at the national level. October brought an end to five straight months of double-digit decrease in lease concession availability. Even so, availability closed the month having been cut by more than half from the start of the year, and at the lowest point in more than last five years.
Unsurprisingly, Class A properties continue to offer new lease discounts at a higher rate than the other three price classes. About 14% of those properties had a concession package to close the month after a 7% reduction compared to September. Class B saw a 5% decrease in availability down to 10% of properties offering. In the lower two price tiers, the monthly decline was smaller, but availability was already lower.
In terms of market size, the largest and smallest tiers closed October with the highest concession availability with the mid-sized markets quite a bit lower. All four market tiers experienced a decline during the month. Tier One markets, with 10% of conventional properties offering a discount, continue to have the highest rate of availability followed by the tertiary markets at around 7% of properties. For Tier Two and Tier Three markets, just over 5% of properties were offering a new lease discount to close October.
For six markets in the country, all small areas, ALN registered no lease concession availability at the end of October. 67 markets across the US ended the month with less than 5% of properties offering a discount. Many of those markets are on the smaller side as well, but standouts included San Diego, San Bernardino – Riverside, Miami, Boise, Tampa, and Salt Lake City.
Takeaways
For a second straight month, average effective rent growth slowed nationally, as did the decrease in lease concession availability. There is not much room for lease discounts to continue their decline, as availability is now at its lowest in more than five years.
For rent growth, October was the seventh month in a row to be above a 1% monthly gain. This existing streak, combined with developing economic headwinds and entering a traditionally softer portion of the year for multifamily make it likely rent growth will continue its deceleration. Even so, 2021 will likely end with annual growth around 15%.
Want to Receive Our Free Monthly Newsletter?
If you don't already receive the ALN Apartment Data monthly newsletter, click the button and tell us how to send it to you.
Subscribe
Disclaimer: All content and information within this article is for informational purposes only. ALN Apartment Data makes no representation as to the accuracy or completeness of any information in this or any other article posted on this site or found by following any link on this site. The owner will not be held liable for any losses, injuries, or damages from the display or use of this information. All content and information in this article may be shared provided a link to the article or website is included in the shared content.