By almost any metric 2015 will go down as one of the most optimal years for multifamily in recent memory. Not only did new construction keep dirt flying throughout the year, absorption largely kept pace. Even with the energy sector dragging on the economy, almost all the markets we track saw occupancies maintain a healthy pace and rents grow in all the product classes. However the end of 2015 saw more than just some seasonal dips in occupancies in a few areas and we are even seeing some signs of concessions making a comeback in some markets. Here is a look at the individual states we covered in 2015 and their major markets.
ALABAMA
The 4 major markets in Alabama combined to absorb almost 850 net rented units but that wasn't enough to keep up with new construction and average occupancy fell 0.5% to 88.8%. The markets would have performed much better for the year but the 4th quarter saw them lose almost 500 combined net rented units. The Huntsville market performed the best in 2015, absorbing over 1200 net rented units in the year and even saw occupancy rise 0.6% to 88% in the 4th quarter.
ARKANSAS
Occupancy in 2015 performed admirably in the Arkansas Markets. Little Rock saw occupancy grow 2.7% in the last 12 months and the Fayetteville area performed even better with occupancy jumping 4.5% in the year to a heady 97.3% average occupancy. Rent growth was tepid in the Little Rock area, however, with effective rent per square foot staying flat in the 4th quarter and only rising 0.5% in 2015
ARIZONA
Phoenix and Tucson both had stellar 4th quarter and year in 2015. Phoenix absorbed over 8800 net units in 2015 and was just barely outpaced by new construction so occupancy dipped only slightly to 92.2% in 2015. Tucson absorbed over 2000 net rented units in the year and saw occupancy climb 0.3% in the year to finish at 90.1%. In Phoenix effective rent per unit soared 9.9% higher to $878 in 2015 while in Tucson they rose a healthy 6.0% for the year to $657 per unit.
COLORADO
You would think the Denver market would be reeling with the freefall in the energy and mining sectors but this area has hardly skipped a beat in multifamily. Denver and Colorado Springs absorbed over 5000 net rented units in 2015 with half of them coming in the 4th quarter alone. Effective rents though have taken a hit, dropping 1.3% per unit and 0.9% per square foot in the last quarter of the year.
FLORIDA
Effective rents climber considerably in 2015 in most of the Florida markets. Ft. Myers saw effective rents per unit jump 13.2% in 2015 while in Orlando they were almost 10% higher than the previous year. Only 2 markets had effective rents increase less than 5% for the year with Pensacola and Tallahassee seeing increases of 3.2% and 2.2% per unit respectively. These jumps in rent are from the newer units added to the market which may be an issue in 2016. Palm Beach, Orlando, Ft. Myers and Miami all saw average occupancy drop even with positive absorption in the 4th quarter.,
GEORGIA
While Atlanta had a good year in 2105 by absorbing over 8300 net units, the 4th quarter took some luster off the performance. All of the Georgia markets saw occupancy drop in the 4th quarter with both new supply and negative absorption taking its toll on occupancy numbers. Effective rents in Columbus and Savannah also dipped sharply, declining by 1.5% and 2.1% per unit respectively in the 4th quarter. While effective rents are up 8.2% from last December in Atlanta, in the 4th quarter of 2015 they only rose 0.2% to $1007 per unit.
LOUISIANA
New Orleans absorbed over 1200 units in 2014 yet average occupancy is down more than 2.0% in both Shreveport and Baton Rouge as new units came on the market in 2015 faster than they could be absorbed.  While Baton Rouge and New Orleans both had positive absorption in the 4th quarter, Shreveport lost a net 145 rented units in the quarter and average occupancy dropped 1.1% in just the last 3 months.
MISSISSIPPI
Like Alabama and Louisiana, Mississippi had a rough 4th quarter. Gulfport and Jackson both had negative absorption in the quarter though overall absorption is up for the year in those markets.
NEVADA
In 2014 Las Vegas turned the corner and in 2015 kept up the momentum. The market absorbed over 3600 net rented units in 2015 with the 4th quarter accounting for 240 of those. Effective rents are a healthy 8.0% higher per unit than a year ago. The 4th quarter accounted for 1.2% of that rise. Though we may not see rents rise quite that high in 2016, absorption should stay positive in this market.
NEW MEXICO
Albuquerque had a solid 2015 but it was marred by a weak 4th quarter. Overall the market absorbed a net 800 units in the 1st 9 months of 2015 but the 4th quarter saw it give back almost 400 of those units. Effective rents also dipped in the 4th quarter, dropping from $793 per unit at the end of September to $786 at the end of the year.
NORTH CAROLINA
All of the North Carolina markets had a solid 2015 though the Charlotte market faltered a bit in the 4th quarter. Charlotte absorbed almost 4000 units in 2015 yet new supply drove down average occupancy to 91.4%, off 1.2% from a year ago. Asheville is doing a good job of absorbing the new units introduced in 2015 with average occupancy rising 4.4% in the 4th quarter, though it is still off 5.4% from a year ago. Raleigh-Durham absorbed more the 4500 units in 2015, raising occupancy 2.1% from the end of 2014. Effective rents took a hit in the 4th quarter with all the North Carolina markets experiencing a decline in Effective rent per square foot in the 4th quarter.
OKLAHOMA
Both Oklahoma City and Tulsa had good absorption numbers for 2015 yet both markets had new supply come on faster and had occupancy decline. Average occupancy in Oklahoma City is off 2.0% from this time last year. Though Oklahoma City absorbed 543 units in the 4th quarter alone, average occupancy still dipped 0.1% in the final 3 months of the year. Effective rents rose 0.9% in the 4th quarter in Oklahoma City but Tulsa saw Effective rent drop more than 1% in the last quarter.
SOUTH CAROLINA
Like North Carolina, South Carolina too had good absorption numbers in 2015. The 3 major markets absorbed almost 2600 units in 2015 and absorption kept pace with new supply as average occupancy held steady. Only Charleston saw a slight decline in average occupancy for the year. Effective rents in Charleston also declined in the 4th quarter though Columbia and Greenville-Spartanburg saw effective rent per unit rise 1.2% and 0.5% respectively.
TENNESSEE
Memphis may have finally turned the corner in 2015. The market absorbed almost 2100 units in 2015 and saw average occupancy jump 2.3% to 90.3%. Chattanooga also had a good 2015, absorbing almost 1000 new units and having occupancy gain 4.3% to 95.1%. Effective rents rose in all the Tennessee markets in the 4th quarter with Nashville leading the way with a 2.0% rise in Effective rent per unit in the last 3 months.
TEXAS
Once again Austin and Dallas-Ft. Worth led the way for absorption in 2015. The DFW area absorbed over 22,000 net units and Austin absorbed another 7,100. While traditionally slower, the 4th quarter in those markets was even more underwhelming than usual with only 2200 units absorbed in DFW and about 250 in Austin. While the Houston Market managed to absorb 8700 units for the year, almost 1000 net rented units were lost in the 4th quarter. The midland-Odessa market, hard hit by the freefall in energy prices, continues to see rent dropping with effective rents down 5% per unit in just the 4th quarter. However occupancy losses seem to have stabilized and occupancy has remained in the 87% range. San Antonio had a good year with over 5000 net units absorbed in 2015. Effective rents averaged an increase of almost 5% in the Texas markets with DFW and Austin leading the way with 8% and 6.3% growth in effective rent per unit for the year.
UTAH
Salt Lake City had a solid 2015 with average occupancy increasing 1.5% to end the year at 94.1% Over 300 net rented units were absorbed. In the 4th quarter occupancy rose 0.1% with the absorption of almost 400 units.
I think that 2016 will be more challenging for several markets as even more new product comes on the market and the pace of absorption slackens as job growth levels off.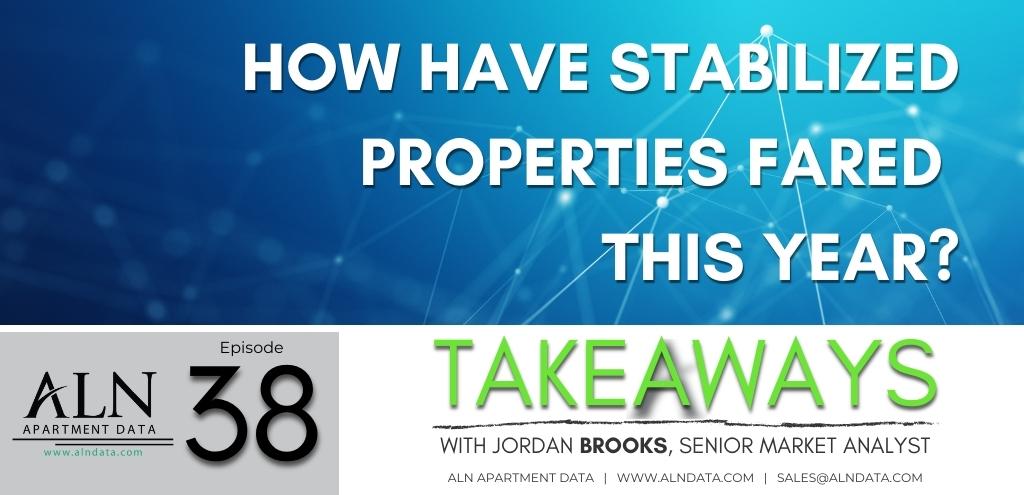 Senior Market Analyst, Jordan Brooks, shares final thoughts on the September 2023 article, How Have Stabilized Properties Fared This Year.