Through the variety of challenges that faced the multifamily industry in 2020, one piece of encouraging news was that apartment demand rebounded strongly in the second half of the year at the national level. It was this resurgence that mitigated the damage to annual performance metrics in the face of a still very active new construction pipeline. However, the recovery was not seen in every market and there were striking regional differences.
In this space today, we'll be taking a closer look at three regions in particular that outperformed both 2018 and 2019 demand in the back half of the year and also examine whether that positive momentum continued into the first two months of the new year. To do so, NAA regions will be used.
Region Three
This region encompasses the Great Lakes area and includes Illinois, Indiana, Michigan, Minnesota, Ohio, and Wisconsin. Monthly apartment demand surpassed both 2018 and 2019 beginning in August of last year, and this trend continued through December. In total, more than 22,000 net units were absorbed in the last six months of 2020, which is roughly double that of the same portion of the prior two years. Unfortunately, through the first two months of 2020 that momentum slowed somewhat and net absorption in those two months equaled just 50% of the value from last year.
This very strong net absorption in the second half of 2020 was in spite of struggles in some of the larger markets in the region. Demand in Chicago, Minneapolis – St. Paul, Green Bay – Appleton – Oshkosh and Madison significantly underperformed recent years in the latter half of 2020. The positive results for the region were largely driven by impressive gains over previous years in net absorption in markets such as Indianapolis, Detroit, and Cincinnati – Dayton. Smaller areas in Indiana like Fort Wayne and South Bend also performed particularly well relative to previous years. Most impressive, the Detroit area managed to lease about 3,500 previously unoccupied units on a net basis from July through February after shedding about 1,700 net rented units in that same period a year ago.
Region Four
This region covers roughly the mid-Atlantic portion of the country and includes Georgia, Kentucky, North Carolina, South Carolina, and Tennessee. Monthly multifamily demand was back to the level seen in 2018 and in 209 by July of last year, and net absorption continued to outpace those prior years through the end of 2020 and into 2021. More than 35,000 net units were absorbed in the last six months of 2020, easily beating out both 2018 and 2019. Unlike the Great Lakes region, rather than coming back down to earth to begin the new year, demand in January and February was more than double that of last year for this region.
Also unlike the previous group of markets, the positive results were essentially ubiquitous throughout this region. Only Nashville has experienced a notable downturn in demand since the recovery began for this region with net absorption around 20% lower from July through February compared to a year ago.
The positive results are too numerous to mention in their entirety but markets large and small across this region have seen remarkable increases in demand over the last six to eight months. In Atlanta, nearly 14,000 net units have been absorbed since the start of July after only about 5,000 net units were absorbed from July 2019 through February 2020. In Savannah, net absorption for that period was more than five times that of the previous year. In Tennessee, even though Nashville struggled a bit relative to the other markets in the region, both Chattanooga and Memphis experienced large increases in demand. Charleston and Greenville – Spartanburg in South Carolina each saw net absorption nearly double from the same period a year ago. In Columbia, more than 1,100 net units were absorbed after less than 200 units were absorbed from July through February last year.
Region Nine
This region essentially represents the Gulf states sans Texas and includes Alabama, Florida, Louisiana, and Mississippi. Net absorption of 32,000 units from July through December 2020 was approximately double that of both 2018 and 2019. The positive momentum carried into 2021 to an even greater extent than in the previous region, with demand triple that of January and February 2020.
Another similarity between this region and the previous one is the widespread nature of the positive demand results. There were only a few markets to see a significant drawdown in net absorption from July through February compared to the previous year – Huntsville, Gainesville, and New Orleans.
Demand increased ten-fold in Birmingham where more than 1,100 net units were absorbed. In Mobile, close to 1,000 absorbed units compared very favorably to the net loss of about 300 rented units in the previous year for that eight-month span. In Florida, results were strong just about across the board, but in Fort Myers – Naples, Jacksonville, and Melbourne apartment demand nearly tripled. With the exception of the aforementioned New Orleans and a virtual tie in Monroe – markets across Louisiana and Mississippi managed increases in net absorption.
Takeaways
Despite the challenges of 2020, national apartment demand in the second half of the year was robust. The upcoming ALN newsletter for the month of March will include a look at some of the national numbers as well as differences from the perspective of price class. Beyond that, there were clear performance differences across the various regions of the US. In particular, markets across NAA regions four and nine did more than rebound – they erupted.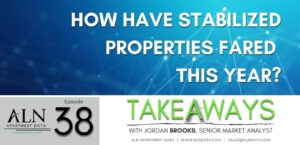 In our series Takeaways, ALN Apartment Data Senior Market Analyst, Jordan Brooks, shares more insight into the final thoughts on the September 2023 newsletter article,…
Read More
arrow_forward
Disclaimer: All content and information within this article is for informational purposes only. ALN Apartment Data makes no representation as to the accuracy or completeness of any information in this or any other article posted on this site or found by following any link on this site. The owner will not be held liable for any losses, injuries, or damages from the display or use of this information. All content and information in this article may be shared provided a link to the article or website is included in the shared content.