September marked the third consecutive monthly decline in rent growth and was the first month of 2023 to end in negative territory. This development occurred as apartment demand held up reasonably well given the time of year in the face of nearly 40,000 new units being brought to market nationwide.
National Performance
A 0.1% decline in national average effective rent for new leases in September was the first negative monthly value for that metric since December of 2022. Monthly rent growth appears to have peaked for 2023 with a 0.5% gain in June. In the months since, rent growth has steadily trended downward. The slowdown has occurred earlier in the year than was the case in 2022, and the underperformance relative to 2022 may persist through the end of the year.
A still-tight labor market and myriad challenges on the single-family side of residential real estate have aided multifamily performance in the top price classes this year. Even so, Class B properties managed only to hold serve in September with no change to average effective rent, and Class A properties gained only 0.1% at the average. Both of the top price tiers have seen rent growth steadily soften over the last couple of months and may well be in slightly negative territory when October ends.
The bottom two price tiers were both already in negative territory in September. A 0.2% decline for Class C properties was the first monthly loss since December of 2022. For the Class D subset, a 0.4% decrease in September followed a smaller negative move in August. September was also the eighth month out of the nine so far in 2023 in which Class D net absorption nationally was negative.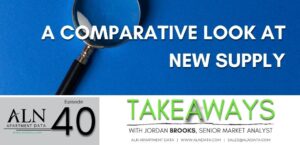 In our series Takeaways, ALN Apartment Data Senior Market Analyst, Jordan Brooks, shares more insight into the final thoughts on the November 2023 newsletter article,…
Read More
arrow_forward
Market Notes
The top-performing markets in September for rent growth were all smaller markets. Most had no new supply in the period, but a few did. Fargo, ND and Lake Charles, LA each added around 1% in average effective rent for new leases in September. Buffalo – Rochester, NY, Wichita Falls, TX, and Lincoln, NE were right behind with monthly gains of just less than 1%. Among larger markets, Oklahoma City, Cincinnati – Dayton, and St. Louis stood out – each with a gain of approximately 0.5%.
A handful of markets stood out on the other end of the spectrum. Both Austin and Victoria in Texas along with Honolulu suffered a loss of more than 1% in average effective rent in September. Fayetteville, NC and Texarkana, TX each saw declines of about 1% in the period. Growth markets such as Fort Myers – Naples, Spokane, Charleston, and Orlando also found themselves in the bottom ten of nationwide markets for September rent growth.
Takeaways
Multifamily performance this year continues to track more closely with the typical seasonal trends that had been absent from 2020 through 2022. Given rent performance earlier this year, punctuated by a brief peak in early summer that was already fading by July, negative monthly rent growth was anticipated for the fall and winter period.
August just managed to avoid negative territory to the tune of a 0.1% gain in average effective rent, and so September turned out to be the inflection point. It is possible for October to bounce back into the positive, but not likely. More probable is the possibility of Class A and Class B rent growth slipping into the negative to join the workforce housing segments.
Continued economic uncertainty, stubborn inflation, the return of student loan payments, and continued seasonal downward pressure on demand within a high-supply environment points to the best chance for sustained rent growth being sometime in 2024.
Want to Receive Our Free Monthly Newsletter?
If you don't already receive the ALN Apartment Data monthly newsletter, click the button and tell us how to send it to you.
Subscribe
Disclaimer: All content and information within this article is for informational purposes only. ALN Apartment Data makes no representation as to the accuracy or completeness of any information in this or any other article posted on this site or found by following any link on this site. The owner will not be held liable for any losses, injuries, or damages from the display or use of this information. All content and information in this article may be shared provided a link to the article or website is included in the shared content.