Among myriad uncertainties currently facing the multifamily industry, one certainty is that new supply is going to be very high once again this year. Given that reality, apartment demand is going to play a pivotal role in determining how performance metrics such as occupancy and rent growth shake out this year.
All numbers will refer to conventional properties of at least fifty units.
Three Straight Months of Improvement
May marked the third consecutive month in which national net absorbed units improved over the previous month. In March, just over 13,000 net absorbed units nationally was the first substantive improvement after six of the previous seven months had suffered a net loss of leased units.  April then followed with another 19,000 net absorbed units before May net absorption topped 27,000 units.
One feature of this year has been the emergence of more typical seasonality. A distinctive feature of the 2020 through 2022 period was a lack of traditional seasonality for apartment demand as well as for rent growth. So far in 2023, apartment demand has ramped up in the spring period – an encouraging indication that the summer months may continue to remain around the May number.
It is worth noting that in 2018, and 2019 the monthly net absorption total for May was the high point of the year. June through September in each of those years remained above the winter lows but did not surpass the May peak. In 2017, June was the peak with robust demand from March through September. Although the last three months of this year have shown improvement on the demand front, 2023 remains well below any recent year in terms of net absorbed units through May.  Approximately 74,000 net absorbed units in the first five months of 2020, and about 79,000 net units in the same portion of 2022 represent the recent low water marks. This year, national net absorption stood at 58,000 units at the end of May.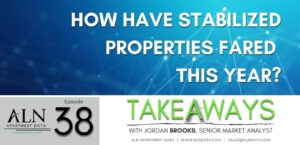 In our series Takeaways, ALN Apartment Data Senior Market Analyst, Jordan Brooks, shares more insight into the final thoughts on the September 2023 newsletter article,…
Read More
arrow_forward
Looking Ahead
2022 was a very unusual year in that net absorption through May was higher than the annual total ended up being. This was thanks to a monthly net loss of leased units for the last five months of the year. In November, the losses peaked with national net absorption negative by more than 21,000 units.
Inflation, rising interest rates, the fumes of various stimulus payments and pandemic-related benefits running down, the massive rent growth of the 2021 and early 2022, and the explosion of realized demand in 2021 conspired with other factors to weigh down apartment demand last fall and winter. The loss of roughly 60,000 net leased units in the final five months of the year completely changed the profile of 2022 annual performance.
Much uncertainty remains from a macro perspective in the back half of 2023. Will the Federal Reserve decide to pause their rate hikes during their summer meeting? It is looking increasingly possible, but there is not yet a firm answer. Unemployment has started to creep up, with the latest national figure at 3.7% after March and April had been 3.5% and 3.4% respectively.
What has allowed the rent growth of the last few years to be mostly absorbed by residents, along with sustaining consumer spending more broadly, has been the tight labor market. Debt-fueled spending has increased since 2021 as individuals have relied more on credit cards to fill in the gaps, but that is somewhat sustainable as long as unemployment remains low. If unemployment continues to rise in the back half of the year – that is another risk factor for multifamily demand.
Another issue is the upcoming return of student loan payments. The average balance is somewhere around $33,000, but more than four million borrowers owe at least $75,000. The absence of monthly student loan payments for the last three years has undoubtedly allowed for the rent growth that has occurred to be absorbed by residents. With payments likely to resume around August or September, this shift will occur right along with the seasonal downtrend in demand that is typical for the fourth quarter.
Takeaways
As it stands today, the multifamily industry is facing a bit of a mixed bag from a demand perspective. The good news is that net absorption has improved throughout the spring. The other side of that coin is that even with the improvement, demand has been lower so far this year than in any recent year.
Looking ahead through the rest of 2023, positive indications come from a labor market that has remained fairly tight and the possibility of a rate hike pause this summer as inflation continues its downward trend. However, even the labor picture is complicated. Many of the layoffs that have occurred have been in the tech, finance, and business services sectors. These have tended to be well-paying office jobs – the type of jobs that provide demand for incoming new Class A multifamily units.
Aside from what happens with the interplay between Fed policy to rein in inflation and effects in the employment picture, the resumption of student loan payments likely will have a role to play in apartment demand in the fall and winter months. Residents adding a couple hundred dollars per month to their bills after already experiencing a similar increase in expenses from rent in recent years could be forced to alter their leasing behavior.
With plenty of unknowns on the demand side, what is certain is that 2023 is going to be a big year for new supply.
Disclaimer: All content and information within this article is for informational purposes only. ALN Apartment Data makes no representation as to the accuracy or completeness of any information in this or any other article posted on this site or found by following any link on this site. The owner will not be held liable for any losses, injuries, or damages from the display or use of this information. All content and information in this article may be shared provided a link to the article or website is included in the shared content.