After already achieving other-worldly heights this year, effective rent growth cooled further in November after an October slowdown. For the third month in a row, monthly rent growth was lower than in the previous month.
As a reminder, all numbers will refer to conventional properties of at least 50 units.
Average Effective Rent
At the national level, average effective rent growth fell to 0.8% in November – the lowest monthly increase since March. November's gain followed a 1.2% increase in October and a 1.6% jump in September. After an exceedingly unusual last two years, the typical seasonal slowdown in rent growth represents a measure of normalcy. November also officially ended the seven-month streak of monthly average effective rent growth above 1% at the national level.
Below the national numbers, some interesting differences played out during the month. Class A and Class B properties did manage to achieve 1% average effective rent growth in the period, while the Class C and Class D subsets closed the month with an increase of about 0.5% each. From the perspective of market size, it was the Tier Two and Tier Three markets that led the way, also with a monthly gain of 1% each, with the largest and the smallest markets trailing.
The top three markets for November rent growth, and four of the top five, were Florida markets. Fort Myers – Naples led the way at around 6%, followed by Palm Beach at just under 3% and Miami at just more than 2%. The only non-Florida market to crack the top five for the month was Tucson, also with an average effective rent gain just over 2%. On the other side of the coin, 13 markets lost ground in the period, led by a 1.9% decline in Spokane.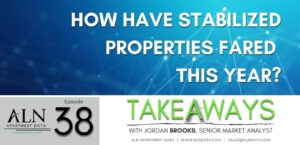 In our series Takeaways, ALN Apartment Data Senior Market Analyst, Jordan Brooks, shares more insight into the final thoughts on the September 2023 newsletter article,…
Read More
arrow_forward
Lease Concessions
An important component of the rent growth story has been lease concessions. A decrease in the availability of new lease discounts of around 3% nationally was also the smallest monthly decline since March. However, concession availability was already unusually low, and ended November at about 8% of conventional properties around the country offering a discount.
Availability remained elevated, relative to the other price classes, in the Class A space with about 14% of properties offering a discount at the end of the month. Class D, with only 7% of properties offering, had the lowest level of availability of the price tiers by a slight margin. Unsurprisingly, urban areas closed the month with the highest discount availability with about 11% of conventional properties offering a discount. Suburban regions followed with just over 8% of properties offering a concession package.
In more than 60 markets around the US discount availability ended November at below 5% of properties offering. Larger markets including Atlanta, Miami, San Diego, and Tampa fell into that category as well as a host of smaller areas. Midland – Odessa continues to be the outlier on the other end of the spectrum, with more than 40% of conventional properties offering a lease concession package for new leases. Other markets with elevated discount availability relative to other regions include San Francisco – Oakland and Houston – each with more than 20% of properties offering.
Takeaways
After a roller coaster couple of years in which seasonal norms have been displaced by exogenous effects, rent growth over the last few months has more closely resembled the typical seasonal flow of the multifamily industry compared to the summer peak. November marked the third consecutive month in which rent growth declined and lease concession availability also continued to recede more slowly. With national average effective rent growth of almost 15% through November, a return to some normalcy is not unwelcome.
Disclaimer: All content and information within this article is for informational purposes only. ALN Apartment Data makes no representation as to the accuracy or completeness of any information in this or any other article posted on this site or found by following any link on this site. The owner will not be held liable for any losses, injuries, or damages from the display or use of this information. All content and information in this article may be shared provided a link to the article or website is included in the shared content. 
Want to Receive Our Free Monthly Newsletter?
If you don't already receive the ALN Apartment Data monthly newsletter, click the button and tell us how to send it to you.
Subscribe