The holiday season is here and, thankfully, 2020 is almost in the rear view mirror. This year has certainly been one of disruption, but one area of relative normalcy was new construction. This was true whether referring to the level of new supply or to the unit mix of product entering the market. The latter will be the focus of this month's newsletter.
View the full monthly Markets Stats PDF
Historical Context
For properties built in the 1970s, 85% of units were either one or two-bedroom. Most numerous were the two-bedroom units, accounting for 44% of units built in that decade. Three-bedroom units made up 9% of supply while efficiencies represented 5% and units with more than three bedrooms were only 1% of units.
From there, one and two-bedroom floorplans became an even larger share of units built in the 1980s — accounting for a full 90% of units. That growth came at the expense of each other floorplan type, notably the floorplans with three or more bedrooms. In fact, less than 10,000 units with more than three bedrooms were added in the 1980s out of more than 2.5 million new units.
The major change in the 1990s was a significant resurgence in three-bedroom units. Interestingly, this increase came predominately at the expense of one-bedroom floorplans. As a result, the combination of one and two-bedroom units totaled only 82% of construction in this decade compared to 90% in the 1980s.
There was not much movement during the 2000s from the previous decade. The only change of more than 1% in unit mix share was a slight reduction in two-bedroom units and a small uptick in floorplans with more than three bedrooms. For a second consecutive decade, three-bedroom units made up more than 13% of new construction.
Recent Years
There was not much change during the 1990s and 2000s, but the 2010s were a different story. After representing only 3% of units built in the 2000s, efficiency floorplans were 8% of units built between 2010 and 2019. The other large gainer was one-bedroom floorplans, moving from 37% of units in the prior decade to 45% of units. This dramatic reshuffling came at the expense of two and three-bedroom floorplans. Two-bedroom units fell below 40% of total units built during the decade for the first time in this fifty-year analysis period. Similarly, three-bedroom floorplans accounted for less than 10% of new units for the first time since the 1980s.
Only one year into the new decade, these trends have not only continued, but intensified. Comparisons should not be drawn between a one-year period and a ten-year period; a lot can change in the upcoming years. The most that can be said for the 2020s is how the decade looks at the outset. 13% of new units built in 2020 were efficiency floorplans. Were that to hold up for the entire decade, it would be the highest share of new units for a floorplan type other than one or two-bedroom since three-bedroom units were just above 13% in the 2000s.
49% of units were one-bedroom floorplans for properties built in 2020, while two-bedroom floorplans represented only 30% of new supply. Both the three-bedroom floorplans and those with more than three bedrooms continued their downward trajectory and totaled only 8% of new units when combined.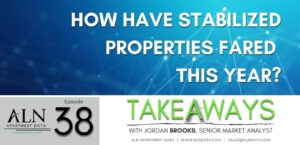 In our series Takeaways, ALN Apartment Data Senior Market Analyst, Jordan Brooks, shares more insight into the final thoughts on the September 2023 newsletter article,…
Read More
arrow_forward
Unit Mix Differences by Market Size
Now with some historical context and knowledge of recent changes at the national level, we can get a little more granular. Unit mixes have looked very different over the years between markets of different sizes. Those differences began to shrink last decade.
Efficiency floorplans were 10% of units built during the 2010s in ALN Tier One markets, which are the 33 largest markets in the country by multifamily presence. For each of the smaller three market tiers, efficiency floorplans made up only around 5% of units built in that decade. One bedroom-units were less prevalent in smaller markets as well. Efficiency and one-bedroom floorplans were 58% of units built in Tier One markets in the 2010s, and in no other market tier was that value higher than the 46% in Tier Two markets.
Of course, this phenomenon was reversed for the floorplans with more bedrooms. Smaller markets continued to build a larger proportion of units with at least two bedrooms with the smallest markets reserving almost 20% of units for floorplans with at least three bedrooms. For context, only 7% of Tier One units built in this decade had at least three bedrooms.
In the latter part of the 2010s, and certainly in 2020, these differences began to winnow as the construction trends that emerged in the largest markets started to expand outward to the rest of the country.
Efficiency floorplans made up 14% of units built in 2020 for both Tier One and Tier Two markets. Even in Tier Three markets this floorplan type was nearly 10% of 2020 construction. Only the smallest markets remain outside this move toward efficiency units, with only 5% of units in properties built this year being efficiency floorplans.
Along these same lines, one-bedroom units were a larger share of 2020 construction than in the previous decade for all four market tiers and units with two or more bedrooms all represented a smaller share. The lone exception was for floorplans with more than three bedrooms for Tier Four markets. These units were 8% of total units built this year in those smallest markets.
Takeaways
Over the last ten or so years, there has been a substantial shift toward efficiency and one-bedroom units at the national level. This has mostly come at the expense of two and three-bedroom floorplans. The shift began early in the previous decade for the largest markets and has expanded outward into secondary and even some tertiary markets since then. For properties built in 2020, this trend not only held up, but became more pronounced.
There were, and remain, a number of fundamental reasons for this transition to floorplans with less bedrooms and it would be a mistake to assume the COVID-19 pandemic will reverse the course set in recent years. To be sure, there will be lasting effects on development, design and consumer preference brought on by the pandemic, but it unlikely the industry will be reverting back to a unit mix resembling the 1990s any time soon.
Search, Analyze & Compare
ALN OnLine is a web portal that allows our clients to search properties, access submarket and markets trends, new construction, and more. Since 1991, we have continued to refine our business practices and methodology in order to offer our clients the absolute best in multifamily data.
Find Out More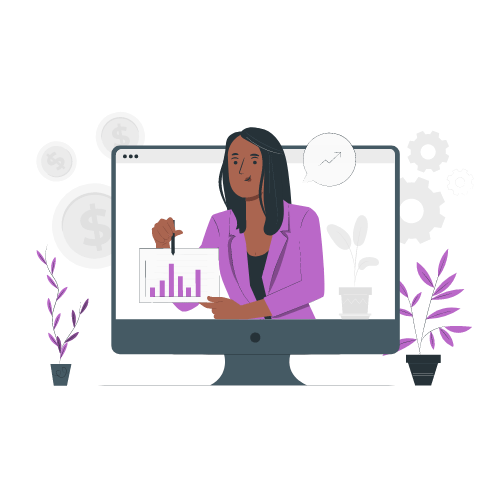 ---
Disclaimer: All content and information within this article is for informational purposes only. ALN Apartment Data makes no representation as to the accuracy or completeness of any information in this or any other article posted on this site or found by following any link on this site. The owner will not be held liable for any losses, injuries, or damages from the display or use of this information. All content and information in this article may be shared provided a link to the article or website is included in the shared content.
Illustration by Freepik Stories
---