Another fantastic TAA Lone Star Expo is under the belt, and ALN Apartment Data is very proud to have been a Silver Sponsor! Houston provided some great temperatures and weather for everyone, though we did get a little rain. This year's TAA Team was made up of Wayne Williams, Laura Williams, Patrick Searcy, Susan Stroud, Karen Nelsen, Brenda Mallory, Dianna McClung, Robert Durham, and TAA-first-timer Chelcie Brown.
TAA PAC Bowling Tournament
This year, TAA held a bowling tournament for PAC, and we hopped at the opportunity to sponsor and have a team! Char McCurdy, Vice President of Operations for Summit Property Management joined the ALN Team on the alley, but the competition was fierce! We all enjoyed the event and the venue, Luck Strike in Houston, was an excellent choice!
Want to see all of our other photos from TAA? Go to our Facebook and see the 2019 TAA album!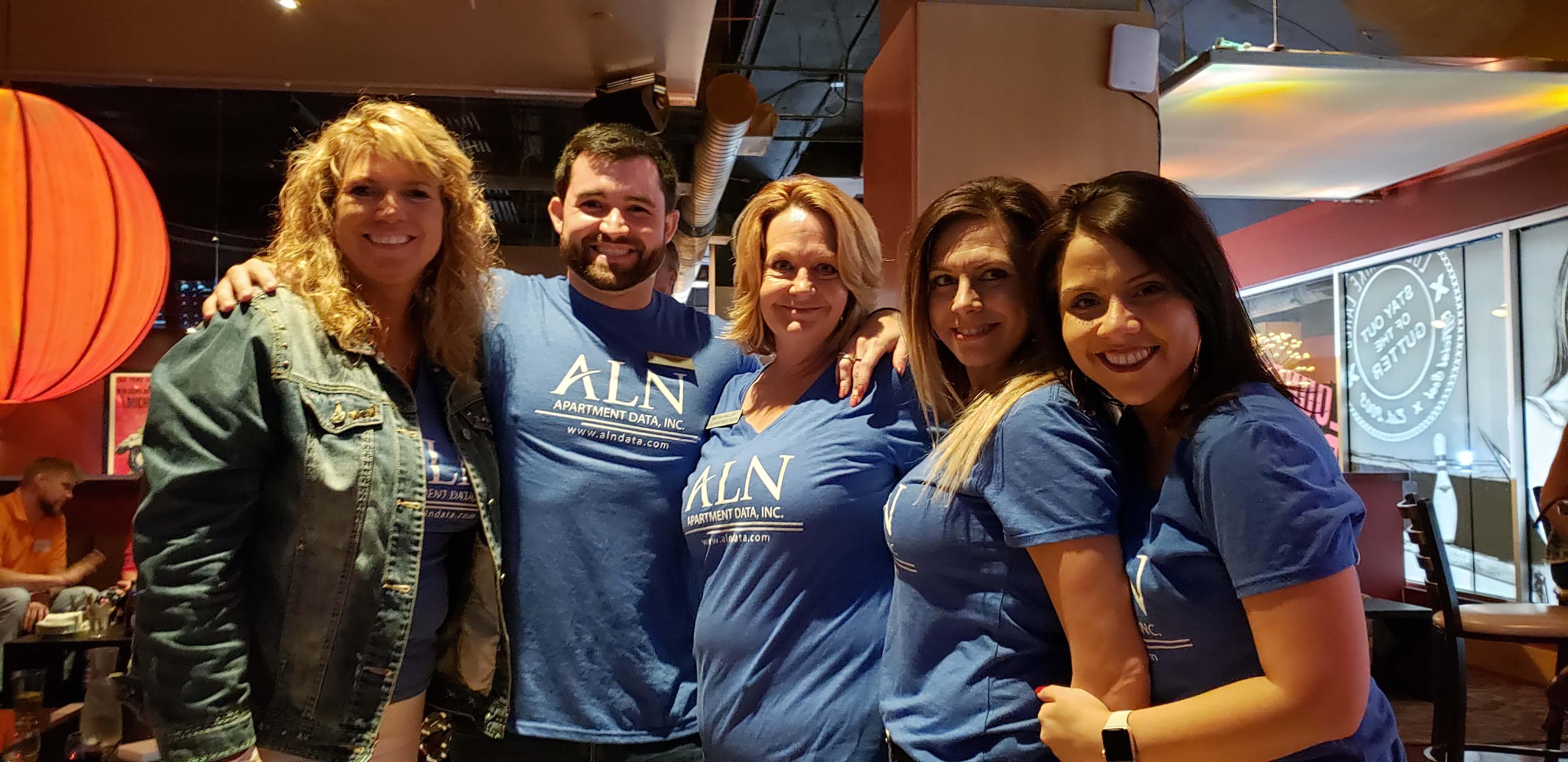 House of Blues
Wednesday night (April 10) was the House of Blues party that we cosponsored which had a 70's theme. People dressed to impress, and we saw some really creative and amazing costumes that night! Team ALN had a blast hearing Emerald City play and seeing the enormous crowd who showed up for the party!
Education Conference
ALN was very proud to sponsor the Customer Service track at this year's TAA. Our very own Robert Durham even had a session he wrote on Friday called Understanding Your Market Cycles, which had really great feedback from attendees. The sessions our team attended this year are among the most educational, entertaining we've gone to at TAA.
Lone Star Expo
The ALN Team described the expo this year as "big," which makes sense when you're talking about an expo in Texas. Every year it seems as though the hall needs to be so much larger to accommodate the number of exhibitors. This year, the booth traffic was excitable and people were generally having the time of their life! One attendee told us that this year's show was "like a business vacation" in that they were working, but enjoying their time at the Lone Star Expo so much that they forgot it was work!
Our message this year was simple: ALN Apartment Data, Inc. is Texas based, but nationwide. After 28 years of multifamily research and helping people grow their businesses, we're honored to have the opportunity to see everyone each year at the TAA Lone Star Expo, particularly in our home state. We look forward to seeing everyone next year in Fort Worth!