With population growth in the neighborhood of 20% over the last decade, the Dallas – Fort Worth market has been one of the most active in the country in recent years both in terms of new multifamily supply as well as apartment demand. For the latest installment in the Market Spotlight series, let's have a closer look.
New Supply and Net Absorption
More than 90 new properties have been delivered in each of the past three completed years – 2018, 2019, and 2020. From the perspective of total units, 2020 was the most active year of the three with more than 26,000 new units delivered across the metroplex. Of those, around 17,000 new units were located on the Greater Dallas side of the market. More specifically, the deliveries were especially concentrated in the far-northern suburbs of Dallas.
For the Dallas – Fort Worth market overall, the volume of new supply has not slowed at all so far in 2021. In fact, about 5,500 new units have already been delivered in January and February – a number well beyond that of the previous two years.
Despite a rough patch from approximately April through June of 2020, annual apartment demand for the year was only very slightly short of demand from 2019 and managed to beat the 2018 figure. All told, more than 22,000 net units were absorbed across DFW last year. Thanks to very robust absorption in the back half of the year, the market managed to stave off a substantial average occupancy decline for the year and closed December just above 90% after an annual loss of around 0.5%.
Market-level average occupancy dipped slightly below 90% in the first two months of 2021 in the face of more than 5,000 new units, but the loss was one of less than 0.5%. The retraction was mitigated by net absorption of more than 3,000 units during the two months – easily outpacing demand from January and February in 2019 and in 2020.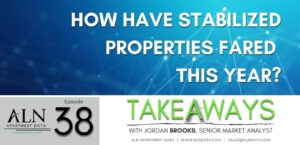 In our series Takeaways, ALN Apartment Data Senior Market Analyst, Jordan Brooks, shares more insight into the final thoughts on the September 2023 newsletter article,…
Read More
arrow_forward
Average Effective Rent and Lease Concessions
While apartment demand for the area has been sufficient to maintain average occupancy despite the new construction activity, average effective rent growth has not been maintained at anything resembling the growth of recent years. For the year of 2020 in the DFW market, average effective rent rose 1% after annual gains of about 3.5% and 4.5% in 2019 and 2018, respectively. The change in trajectory of rent growth was most acute in the top two price classes, each of which suffered slight losses in average effective rent last year.
An encouraging development is that through the first two months of this year, rent growth has begun to reemerge. Average effective rent rose by just under 1% during January and February after managing rent growth closer to 0.5% in the same portion of 2019 and 2020.
One reason for the increasing rent growth is that the run-up of lease concession availability that occurred throughout 2020 may have peaked for Dallas – Fort Worth. After an almost 30% annual increase, about 34% of conventional multifamily properties in DFW were offering a new lease discount to end 2020. Additionally, a 21% annual increase in the average discount value meant that the average lease concession at the end of 2020 was 3.6 weeks off a 12-month lease.
During the opening two months of 2021 the availability of lease discounts has receded by around 5% and the average discount value has decreased by almost 4%. Generally speaking, seasonal decreases in a reliance on lease concessions happen around the turn of the first quarter, so it is a positive development to observe these declines so early in the year. Even so, both the availability of concessions and the average discount value remain elevated compared to pre-pandemic levels.
Takeaways
Dallas – Fort Worth is a market that has enjoyed strong population and job growth in recent years that has led to unrivaled apartment demand and new supply during that time. The area managed to weather the storm of all of the disruption and challenges of 2020 to essentially hold serve on the occupancy and rent fronts while deliveries continued unabated.
So far in 2021, the returns have been encouraging. Rent growth has begun to rebound after months of strong absorption and short of some new black swan calamity this year, 2021 appears to be one in which Dallas – Fort Worth multifamily is well positioned to have a bounce back year.
Want to Receive Our Free Monthly Newsletter?
If you don't already receive the ALN Apartment Data monthly newsletter, click the button and tell us how to send it to you.
Subscribe
Disclaimer: All content and information within this article is for informational purposes only. ALN Apartment Data makes no representation as to the accuracy or completeness of any information in this or any other article posted on this site or found by following any link on this site. The owner will not be held liable for any losses, injuries, or damages from the display or use of this information. All content and information in this article may be shared provided a link to the article or website is included in the shared content.
---