In what has been a year of upheaval, one area of normalcy for the multifamily industry has been the flow of new units into the market. After some initial delays in the early days of the pandemic, the new construction pipeline ramped back up to deliver about as many units as were delivered in both 2018 and 2019. For our last post of the year, let us take a look at units delivered in 2020 and the upcoming pipeline for 2021 and 2022.
New Units Delivered
Approximately 290,000 new multifamily units were delivered in 2020. That is slightly less than the 294,000 new units from 2019, but on-par with the new supply volume from 2018 and well beyond the roughly 271,000 new units from 2017. In ALN's August newsletter some especially active markets were highlighted, and many of those same markets finished the year among those with the most new units delivered.
With about 26,000 new units, the Dallas – Fort Worth market led the way in new supply by a healthy margin. Next was Houston with just more than 17,000 new units. The other two areas that delivered at least 10,000 new units this year were Atlanta and Washington DC with 13,000 and 11,000 units, respectively.
Aside from the large markets, a blog post last month spotlighted  new construction activity in smaller markets. Obviously not much has changed in the last six weeks or so. However, a metric that was discussed in that post was new supply as a percent of existing stock. It is worth pointing out that the top five markets in that metric, regardless of market size, were smaller areas in Florida and North Carolina such as Melbourne and Asheville.
Units Under Construction
There are currently more than 620,000 multifamily units under construction around the country. About one-third of units in this phase of the pipeline are located in just five markets. The New York City region leads the way by a wide margin with almost 70,000 new units already having broken ground but not yet leasing. The 40,000 units under construction in Washington DC were enough for second most while the 33,000 units in the Los Angeles – Orange County area make it the only other market to top 30,000 units under construction.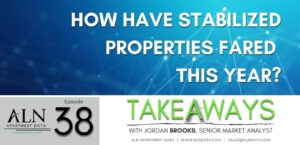 In our series Takeaways, ALN Apartment Data Senior Market Analyst, Jordan Brooks, shares more insight into the final thoughts on the September 2023 newsletter article,…
Read More
arrow_forward
Pre-Construction Units
This phase of the pipeline is made of up projects that have yet to break ground. As a result, some portion of these units generally do not end up progressing through the pipeline to completion and projects in this phase may also be delayed or put on hold. ALN is tracking just less than 1.4 million units around the country in this category. The markets with the most units in this phase are mostly the familiar names at this point, but the Denver – Colorado Springs region is a new one to crack the top five. Austin, Miami, and Orlando are also all in the top 10.
Takeaways
The flow of new units continued apace in 2020 despite unique and unprecedented challenges. Given the number of units already under construction, 2021 is likely to see about the same level of new supply – or even a little more than was delivered this year.
In regard to the location of the new units, for the most part the markets that have been especially active appear poised to continue on that trajectory. Some, like New York, Seattle and LA are expected to increase delivery volume in 2021 fairly substantially compared to 2020. Other areas that are likely to considerably increase deliveries next year include Baltimore, Memphis, Las Vegas, Boise, and Detroit.
The level of success of the COVID-19 vaccine rollout and the extent to which a return to economic 'normalcy' is achieved will be the major determining factor for multifamily performance next year in the face of this new construction activity. One positive note is that after a disastrous second quarter for apartment demand, net absorption through November of this year was 85% that of the same portion of 2019. If the vaccine rollout allows for widespread economic reopening for most of 2021, this year's level of demand should be outpaced next year.
Want to Receive Our Free Monthly Newsletter?
If you don't already receive the ALN Apartment Data monthly newsletter, click the button and tell us how to send it to you.
Subscribe
Disclaimer: All content and information within this article is for informational purposes only. ALN Apartment Data makes no representation as to the accuracy or completeness of any information in this or any other article posted on this site or found by following any link on this site. The owner will not be held liable for any losses, injuries, or damages from the display or use of this information. All content and information in this article may be shared provided a link to the article or website is included in the shared content.