The mid-year review edition of the ALN newsletter will be published in July, but with only one day remaining in June for property updates to be collected, the data for the first half of 2021 is largely in place. One observation that jumps out from the data is the representation of Florida near the top of the list of markets with the strongest average effective rent growth so far this year. Florida markets comprise four of the top 10 markets while no other state boasts more than one, and seven of the top 15 markets – no other state has more than Arizona's two.
While all seven Florida markets will not be touched on in detail here, this heavy representation at the top of the list bears a closer look. As always, all numbers will refer to conventional properties of at least 50 units.
Average Effective Rent
The seven Florida markets to land within the top 15 US markets for average effective rent were: Pensacola, Fort Myers – Naples, Palm Beach, Tampa, Melbourne, Jacksonville, and Orlando. Each market fell within a very narrow band for rent growth that ranged only from 10% to 11%. Orlando and Jacksonville both managed rent growth right at 10% through June, putting them at the bottom of these seven markets. On the high end was Pensacola with an 11% gain in the period. The remaining four markets ended up in the middle, with the 10.8% gain in Fort Myers – Naples being the closest to 11%.
Despite lease concessions playing a major role in these rent results, which will be touched on in more detail below, it should not be ignored that considerable increases were seen on the market rent side as well. Market rent, also referred to as base rent or asking rent, refers to the rental rate of a unit before any lease concessions are considered. On this side of the rent equation, each of the seven markets added at least 8% to average market rent and Pensacola once again led the way with a gain of just under 11%. These increases in average market rent reflect increased confidence on the part of operators, as well as some influence from new supply coming in at a higher price point.
Apartment Demand Standouts
Of these seven Florida markets, three stand out from an apartment demand perspective. The two largest markets in the state in terms of existing supply, Tampa and Orlando, unsurprisingly have absorbed the most net units this year. Interestingly though, Orlando net absorption easily outpaced Tampa despite Tampa being the larger market. This is a very encouraging development for the area given Orlando was one of the especially impacted markets in 2020. More than 5,200 net units that were previously unoccupied were rented in the period in Orlando, while just over 3,100 net units were absorbed in Tampa.
The other market to stand out from a demand perspective was Fort Myers – Naples. Despite the area's relatively small multifamily presence, less than 200 conventional properties of more than 50 units, net absorption totaled about 1,800 units through June for the third-best result in the state.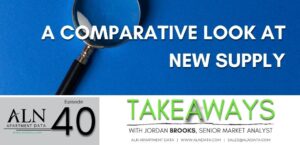 In our series Takeaways, ALN Apartment Data Senior Market Analyst, Jordan Brooks, shares more insight into the final thoughts on the November 2023 newsletter article,…
Read More
arrow_forward
Lease Concessions
With the exception of Orlando, a run-up in lease concessions was not as much of a factor for Florida markets as in much of the country last year. Even so, there have been dramatic reductions in lease concession availability through the first half of the year across the seven markets to crack the top 15 in the country for effective rent growth. In fact, discount availably has declined by 40% or more in all seven markets since the start of 2021.
Orlando was the only market to remain above the national average for discount availability through June, though by a slim margin. After a 49% decrease through June, 15% of conventional properties were offering a discount – slightly higher than the national average of 14%. The largest decreases in availability were in Palm Beach and Tampa. In Palm Beach, a 70% decrease resulted in only 4% of conventional properties offering a discount in June. In Tampa, 6% of conventional properties for offering a discount after a 65% decrease from the start of the year.
Pensacola had the lowest rate of lease concession availability in June at 3% after a 44% reduction in the period.
Takeaways
2021 has been off to a strong start for the multifamily industry nationally. New supply has been substantial and apartment demand has exceeded anything seen in the last decade. Florida has been on the leading edge of this rebound in many ways and has been heavily represented at the top of the list for market-level rent growth.
Seven Florida markets managed 10% average effective rent growth or more through June, and each added at least 8% to asking rents. Additionally, though these areas were already below-average for the most part in terms of discount availability, all seven have seen dramatic decreases in the share of conventional properties offering a concession package from the start of the year.
Winnowing concessions and rising asking rents combined to result in the robust effective rent gains, and the fact that rent growth has not been dependent only on receding concessions is an encouraging indicator for these areas. Even so, rents climbing to this extent in such a short period of time could also cause some issues around affordability, especially outside of the Class A subset. It is also important to keep in mind that only Orlando was in negative rent growth territory in 2020, so for the remainder of these markets, this year's gains are not simply recapturing last year's losses.
Want to Receive Our Free Monthly Newsletter?
If you don't already receive the ALN Apartment Data monthly newsletter, click the button and tell us how to send it to you.
Subscribe
Disclaimer: All content and information within this article is for informational purposes only. ALN Apartment Data makes no representation as to the accuracy or completeness of any information in this or any other article posted on this site or found by following any link on this site. The owner will not be held liable for any losses, injuries, or damages from the display or use of this information. All content and information in this article may be shared provided a link to the article or website is included in the shared content.