Exploding multifamily demand has sent rent growth into the stratosphere this year. The gains have been robust in large markets and small markets, across the price classes, and have been aided both by receding concessions and aggressive asking rent increases on the part of operators. These developments have garnered a lot of attention, as has the challenge posed to new development from a variety of sources. Despite headwinds to new development, the construction pipeline has continued delivering new units at a healthy pace and replacing completed projects with new ones.
Overall Construction Pipeline
ALN is currently tracking almost 2.4 million units in the overall construction pipeline. These projects range from those that are expected to break ground within the next 24 months to those that are already completed but remain in a lease-up phase. Roughly 1.3 million units have yet to break ground, while the bulk of the remaining pipeline ended August under construction but not yet leasing. All told, about 515,000 units are in some form of lease-up, either with construction complete or leasing while construction is finished up.
ALN also assigns each market a pipeline rank based on the number of construction pipeline units as a share of existing multifamily stock. A nice feature of this metric is that it controls for market size, allowing comparisons between dissimilar areas. At the end of August, Boise was ranked number one is this metric by a decent margin with a little more than 15,000 pipeline units. Other markets near the top of the list were Miami, Honolulu, New York, and Seattle.
New Units Delivered
Around 250,000 new units have been delivered through August of 2021 across the country. This level of new supply easily outpaced not only the roughly 200,000 new units from the same portion of last year, but also the 215,000 new units delivered through August of 2019. Unsurprisingly, the Dallas – Fort Worth metroplex has continued its run as the most active multifamily market to the tune of 20,000 new units delivered during the first eight months of the year. Second place New York has added around 12,000 new units in the period while Houston and Austin rounded out the remaining markets above 10,000 new units delivered by each adding about 11,000 units. Aside from the largest markets, smaller areas like Charleston, SC and Greenville – Spartanburg, SC stood out. The former added around 4,500 new units in the period and the latter delivered just over 3,100 units. Various Florida markets like Miami, Pensacola, and Fort Lauderdale have also been active this year.
Units Under Construction
Almost 600,000 units were under construction but not yet leasing around the United States at the end of August. Far and away the market accounting for the largest share of these units was the New York metro area. Around 60,000 units under construction was nearly double the second-place market of Washington DC with its 36,000 units being built. To reiterate, a full 10% of the units currently under construction in the United States and tracked by ALN are being built in the New York market. Dallas – Fort Worth and Austin took the third and fourth sports to end August and Seattle rounded out the top five with almost 25,000 units under construction.
Takeaways
While apartment demand and rent growth have rightfully received a lot of attention this year, the new construction pipeline continues to churn units at a torrid pace even in the face of numerous challenges. The usual suspects at a market level have accounted for much of that activity, but other areas like Boise, Charleston, and Honolulu are poised to add units in a significant way. New supply, particularly in secondary and tertiary markets, should help recalibrate an increasingly out of whack supply and demand picture in many of these areas.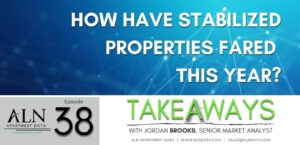 In our series Takeaways, ALN Apartment Data Senior Market Analyst, Jordan Brooks, shares more insight into the final thoughts on the September 2023 newsletter article,…
Read More
arrow_forward
Disclaimer: All content and information within this article is for informational purposes only. ALN Apartment Data makes no representation as to the accuracy or completeness of any information in this or any other article posted on this site or found by following any link on this site. The owner will not be held liable for any losses, injuries, or damages from the display or use of this information. All content and information in this article may be shared provided a link to the article or website is included in the shared content.