With persistently low apartment demand this year, and the typically weaker portion of the calendar ahead, new properties are entering the market in a very different environment than they did a year ago. Some areas, particularly recent high-growth markets, may find themselves with a short-term occupancy pinch as very active construction pipelines continue outputting units while demand remains tepid.
New Units Delivered
With just over 18,000 new units delivered through October of this year, both Dallas – Fort Worth and New York have been in a category of their own for new supply this year. For DFW, this year's new supply volume represents a small decline from the same portion of last year whereas for New York this year's supply has slightly outpaced last year. Houston, Atlanta, and Phoenix round out the top five with between 11,000 and 13,000 new units in the period. In all, eight markets around the country have added at least 10,000 new units this year – with Florida and Texas accounting for half of those.
Primary markets will always be at the top of the list for most deliveries, but there is no shortage of smaller markets with active construction pipelines. When benchmarking recent deliveries according to existing market capacity, other areas come into focus. Leading the way has been Boise, with the approximately 2,500 newly delivered units through October accounting for more than 10% of pre-existing market stock. Around 3,300 new units in Huntsville equaled about 9% of existing capacity. Fort Myers – Naples, Pensacola, and Myrtle Beach have each added units accounting for 8-9% of existing supply so far this year to finish out the top five.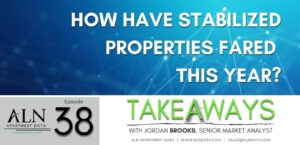 In our series Takeaways, ALN Apartment Data Senior Market Analyst, Jordan Brooks, shares more insight into the final thoughts on the September 2023 newsletter article,…
Read More
arrow_forward
Units Under Construction
ALN is currently tracking roughly one million units under construction around the United States. These are projects that have already broken ground but are not yet leasing.
With nearly 80,000 units in this phase of the pipeline, New York has the most new supply on the way. Washington DC, with about 52,000 units and DFW with approximately 47,000 units round out the top three as usual. 42,000 units under construction in Austin brought it into the top five and makes it one of the aforementioned high-growth markets that may feel some occupancy pressure in the near term. Finishing out the top five is Los Angeles with roughly 38,000 new units currently under construction.
With 30,000 units under construction, Miami upcoming new supply equals 30% of existing market stock – the highest in the nation. State College – Altoona in Pennsylvania and Myrtle Beach are right behind with units under construction representing about 28% of existing stock. Augusta – Portland in Maine and Boise are the only other markets for which units currently being built total at least 20% of existing multifamily capacity. Notable growth markets such as Austin, Orlando, Nashville, and Raleigh-Durham are just under that threshold at 17-18% each.
Takeaways
Despite continued supply chain, labor, and materials cost issues the multifamily construction pipeline has managed to deliver slightly more new units through October of this year than last year. For the most part, deliveries have been concentrated in the usual primary markets and in smaller markets across the Sunbelt and Mountain West.
Projects currently under construction are units expected to enter the market within the next two years. The handful of markets with more than 20% of existing capacity currently under construction are likely to feel some occupancy pressure as those units come online. The two strongest from a recent population and employment growth perspective, Boise and Miami, are both areas with a large contingent of tech jobs now and the tech industry appears to be at the tip of the spear for a softening labor market.
New supply is ultimately necessary for multifamily, especially with the prospect of constrained single-family supply for the foreseeable future. However, combined with a low-demand environment, markets with a high level of new supply in the coming year or so are likely to see declining average occupancy and rising lease concessions.
Want to Receive Our Free Monthly Newsletter?
If you don't already receive the ALN Apartment Data monthly newsletter, click the button and tell us how to send it to you.
Subscribe
Disclaimer: All content and information within this article is for informational purposes only. ALN Apartment Data makes no representation as to the accuracy or completeness of any information in this or any other article posted on this site or found by following any link on this site. The owner will not be held liable for any losses, injuries, or damages from the display or use of this information. All content and information in this article may be shared provided a link to the article or website is included in the shared content.